HICKORY AND BELGIUM















This vignette which I made for an email-friend, is smaller than the other ones. I made some adaptions, by sawing a part of the wood away, so the glass in the front could be removed. Then I took out the backside and placed a piece of cardboard in the middle of the vignette. Now there were two parts to make a scene in.
The theme was souvenirs. On the left picture you see a page of a book with nursery rhymes: Hickory, Dickory, Dock. It resembles a souvenir from Great Britain.
And on the right picture you see things that are typical for Belgium.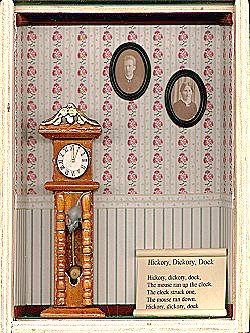 To 16. The Christening Feast
© Jolande's Mini Fantasy